Along EDSA, Corner P. Tuazon Blvd., Quezon City, Metro Manila
Property Fact Sheet and Location Map
Starting at Php 1,200,000

Condo
Bedroom/s: Studio-1 Bedroom
Bathroom/s: 1-2
Size: 18 sqm. and up
Turnover: 2013
Table of Contents
1. Reasons to Buy/Invest at Amaia Skies Cubao
1. Reasons to Buy/Invest at Amaia Skies Cubao

Amaia Skies Cubao
by Amaia Land Corp. (An Ayala Land Company)
Experience the Gift of Time at Amaia Skies Cubao
Set in the bustling crowd of the metropolitan area, everything you might need is within reach. No hassle and no traffic to deal with. With your fast paced lifestyle time is a treasure and getting everything that you want in haste would surely ease your worries away.
With easy accessibility to all transportation routes and with various dining, leisure, and entertainment options Amaia Skies Cubao is truly a treasure that one would be truly lucky to have!
An Answer to Most Young Professional's Work Problems
The metropolitan area specifically the business district is home to thousands of young professionals eager to start their careers or making a headway to the top of the company's executive ladder but there is just one problem that hinders their possible success – and that is getting in the office in time.
If you see yourself in this situation every day, here is an answer for your dilemma. Amaia Skies Cubao – the newest urban residential condo in town is here to provide you with options that would ease your burdens away.
Now, you don't have to experience the annoying traffic, no late meetings and no memos thus no emotional pressure from your boss. What a relaxing way to start your working day!
Invest on a Prime Real Estate Property
For many people especially those who are working in the business district but does not have their own homes, it is a wonder how much of your money are you giving away in renting a house when you can save that money to buy your new home.
With easy financing schemes, you don't even have to worry about paying a whole lot for your unit. As you are aware real estate property only ascends in value the longer it stays and with that in mind you might be surprised at how much your unit will cost in the next few years.
That is what Amaia Skies is here for – to give you an opportunity to realize your life-long dream of finally settling in your own place within the city where everything is within reach as well as providing you an option for a worthy investment.
Be a proud owner of an Ayala Land property today and see how that would give you the comfort that you need!
A Mix of Residential and Business Opportunities
If you are looking for a convenient yet affordable place to stay for you and the family that you are starting to build, Amaia Skies Cubao would be a viable option for you.
The whole property is accessible to almost everything. It is within the business district so you need not go far to reach your workplace.
If you don't want to go out, there is the retail area on the ground floor of the building which serves as commercial spots for shops, stores, boutiques, restaurants, pharmacy and other basic stuff that you might need.

2. First Class Amenities
With your modern lifestyle there is nothing more than you can ask for with all the first class amenities that you can find within the property. All these were designed with you in mind to give you the most satisfying stay and the comfort that you deserve.
Now you and your family and even your friends can all hang out together and enjoy worthwhile and quality moments.
Amaia Skies Cubao Amenities:
Pool area
Podium
Retail area
Multi-purpose hall
Function room
Recreational area/Play area
Fire protection/fire alarm
Cable and landline ready rooms
Emergency power for common areas
Garbage collection area per floor
3. Amaia Skies Cubao Masterplan – An Answer to City Living
This newest development from Amaia Land is a premier high rise condominium residential/business property striving to provide a comfortable way of living for those who would want to have a balance of work and leisure activities right in the center of the metropolis.
Everything has been designed to cater to the needs of many urban dwellers and starting families whose life revolves around the happenings in the city.

4. Floor Plan
Variety of Room Options
The whole property engulfs a one hectare lot and is comprised of 3-tower condominiums with a wide range of studios, bedroom and garden units that you can choose from among the 1,126 available units.
The whole building would have a total of 35 floors and 30 of which are reserved for residential purposes. Units can also be combined to form one larger unit.
Studio Unit
1 Bedroom Floor Plan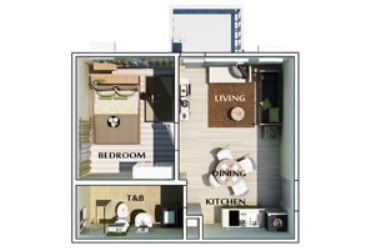 Combined Unit Sample Floor Plan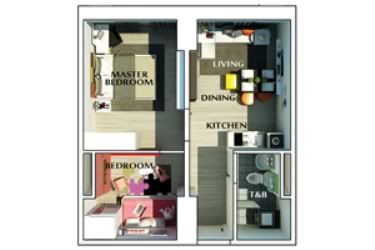 5. Price and Payment Terms
Amaia Skies Cubao offers great financing schemes and flexible payment options for those deserving people who always wanted to have that dream home.
Prices start at P1.2M to P2.3M:
Studio – starts at Php 1,200,000
Studio Garden – starts at Php 1,500,000
1 Bedroom – starts at Php 1,800,00
They offer payments of spot cash, deferred cash, in-house financing and bank financing so there is absolutely no way for you to lose sight of your dream and to be a proud owner of an Ayala Land property.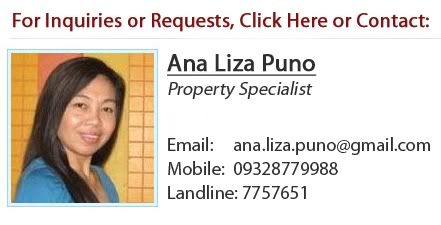 INQUIRY FORM
Ana Liza Puno
Property Specialist
Office: 7757651
Mobile: 09328779988
Other listings
Back to Top